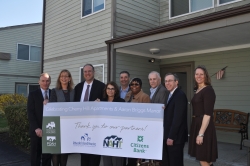 Rhode Island state officials, representatives from Rhode Island Housing and Boston-based Preservation of Affordable Housing at a celebration to kick off renovations at Cherry Hill Apartments (Johnston) and Aaron Briggs Manor (Providence), two housing developments for low-income seniors.
Located just four miles apart, "Cherry Briggs," as the project is known, has been awarded funding from the Rhode Island Pilot Housing Preservation and Production Program (HPPP) and is the first housing in the state to begin renovations under this new funding.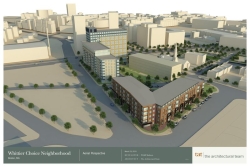 POAH and Madison Park Development Corporation's plans for an 88-unit mixed-use development as the first phase of an innovative redevelopment of the Whittier Street public housing development is among the projects funded by the City of Boston.
"[Redevelopment] is a great opportunity for what has been a lifeless, vacant parking lot to become a positive gateway into Mattapan Square," said state Rep. Dan Cullinane. The property's close proximity to public transit and the Main Streets district are particular attractions.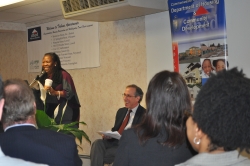 An Irving Street property that houses low-income seniors and people with disabilities will be renovated using state grant money, state officials announced Friday, helping to maintain 53 units of affordable housing in downtown Framingham. MetroWest Daily News story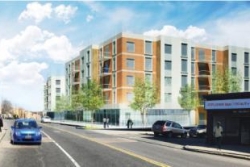 The MBTA is reviewing a pair of competing proposals that would transform a sleepy parking lot next to the Mattapan Square trolley and bus station into a bustling mix of rental housing, condos, and ground-level retail. Read more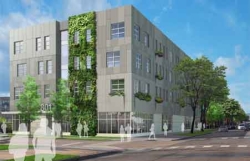 POAH's plans for a new apartment and retail complex in Woodlawn moved another step forward with the support of a $2.5 million city loan approved by the City Council on Feb. 10. The $12.5 million Trianon Lofts, to be built at 803 E. 61st St. will be the latest construction in POAH's redevelopment of the South Cottage Grove corridor located just south of the University of Chicago on the South Side.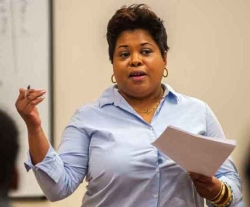 Nicole had been jobless for almost a year when she overheard a group of people talking about the resource center that helped community residents find employment. Now she's the office manager. read more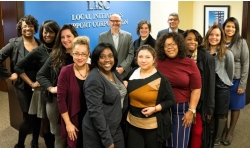 POAH has been awarded a 2015 LISC Social Innovation Fund (SIF) grant that will provide industry specific training and certification to Woodlawn residents. Last year the Woodlawn Resource Center (WRC), which is housed in POAH's Burnham building, placed 112 neighborhood residents into jobs.
Pages