POAH and Develop Detroit will partner with the City of Detroit on a revitalization development in the Sugar Hill Arts District that will include a range of housing types and affordability levels and neighborhood investments.
The $32 million development project announced June 9 by Mayor Mike Duggan will be designed by Phil Freelon, the internationally recognized architect who designed the National Museum of African American History and Culture in Washington, DC.
"We're partnering with this outstanding team because of the city's strong focus on equitable and inclusive development," said POAH Managing Director Real Estate Development Rodger Brown at the announcement.
 "Affordable housing development involves not just the preservation of the existing structure but the creation of sustainable communities that provide a range of housing types and affordability levels and also do the following: promote safe and attract neighborhoods by providing supportive community based planning processes; enhance cultural amenities; and provide safe spaces for civic engagement and opportunities for local businesses including retail and community services.
"We believe all that is going to be part of this development. We've also learned the significance of investing in human capital. If we want sustainable communities, we need to coordinate with local service providers to promote financial and economic literacy for the people who live in our community and surrounding neighborhoods and ensure job training and employment opportunities for all.
"This transformational project is completely aligned with our core mission and we're confident that in partnership with Mayor Duggan and Develop Detroit, our team can deliver a project that will further enhance the Sugar Hill Arts District and contribute to the economic growth of the city of Detroit."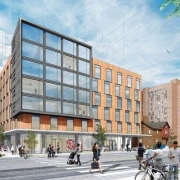 POAH is currently involved in major transformations in Boston, Chicago and Washington, DC.
read more on
Crains- http://www.crainsdetroit.com/article/20170609/NEWS/170609839/-32-million-project-in-sugar-hill-arts-district-to-bring-84
Fox 2 Detroit- http://www.fox2detroit.com/news/local-news/260053286-story
Mlive- http://www.mlive.com/news/detroit/index.ssf/2017/06/32m_development_to_bring_84_ap.html
Detroit News- http://www.detroitnews.com/story/news/local/detroit-city/2017/06/09/sugar-hill-development/102666808/
WXYZ- http://www.wxyz.com/news/duggan-to-announce-32m-in-development-affordable-housing-for-midtown
Deadline Detroit- http://www.deadlinedetroit.com/articles/17641/midtown_getting_32_million_84-unit_apartment_building#.WTr2xXXyugQ
Michigan Radio - http://michiganradio.org/post/new-midtown-detroit-development-will-push-limits-design
Curbed Detroit - https://detroit.curbed.com/2017/6/12/15775998/midtown-development-sugar-hill-arts-district