Boston – Preservation of Affordable Housing (POAH), a national nonprofit developer of mixed-income housing, today released a "virtual groundbreaking" video for The Loop at Mattapan Station, an innovative transit-oriented, mixed-use development that will create 135 units of housing, retail shops, and community spaces in the Mattapan Square neighborhood of Boston.  POAH created the video in lieu of a traditional groundbreaking celebration due to COVID-19 restrictions on in-person gatherings. Watch here
POAH has partnered with Nuestra Comunidad Development Corporation to transform a 2.57-acre commuter parking lot next to the MBTA Mattapan Station into a mixed-use development with housing, retail and community spaces.  A six-story building constructed to meet the latest passive house energy efficiency standards will house 135 apartments, including six studio apartments, 38 one-bedroom apartments, 81 two-bedroom apartments and 10 three-bedroom apartments, as well as over 10,000 square feet of community-oriented first-floor retail space.  
All 135 apartment homes will be deed-restricted and affordable to households across a broad range of incomes, from extremely low-income residents to moderate-income families, and will include 30 new workforce housing units.  
The three-minute video includes remarks from partners and supporters who would have headlined the groundbreaking including Boston Mayor Marty Walsh; Jennifer Maddox, Massachusetts Undersecretary Department of Housing and Community Development and Chrystal Kornegay, Executive Director of MassHousing.
"POAH is excited to be collaborating with Nuestra Comunidad, the MBTA, and our other development partners on this important and innovative project and we are grateful for the financial commitments from the City of Boston, the Massachusetts Department of Housing and Community Development, and MassHousing," said POAH President and CEO Aaron Gornstein.   
"Mattapan neighbors have waited a long time for attractive new development that addresses deeply felt community needs and The Loop at Mattapan Station does just that," said Nuestra Executive Director David Price.
"The Loop at Mattapan Station builds on the City of Boston's goals to create new housing in our neighborhoods that serve families and residents at a range of different incomes," said Walsh."
The video shows footage from the construction site including aerial views and a walking tour of all the nearby amenities – stores, community center, post office, walking trails, trolleys and buses.
"At DHCD, we are thrilled to support projects that prioritize neighborhood, present residents with new opportunities and expand access to green space," said Maddox. "We look forward to watching this neighborhood thrive with new housing and new amenities that will enhance an already vibrant neighborhood."
"The Loop at Mattapan Station represents some of the best thinking in the Baker/Polito Administration that combines the Open for Business Initiative along with the millions of dollars of investment in affordable housing," said Kornegay.
Watch the 3-minute video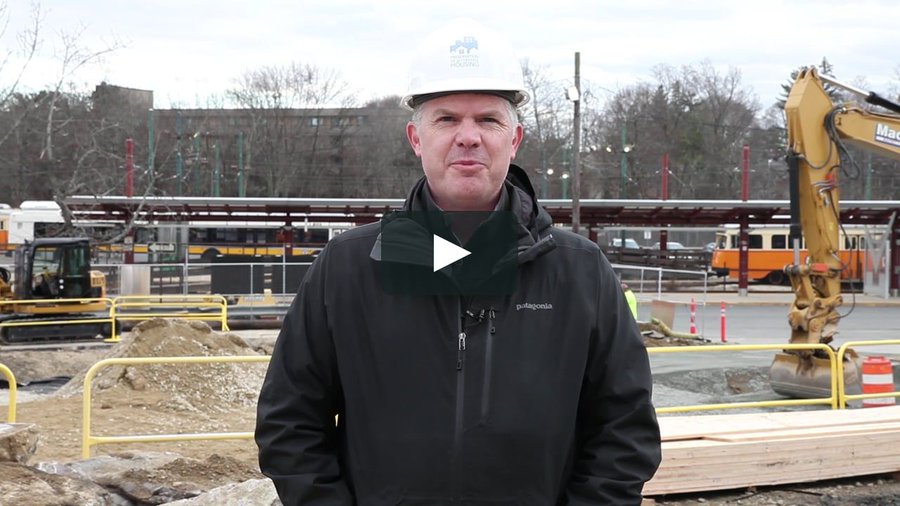 Visit website: http://mattapanstation.org/