Salem, MA – Congressman Seth Moulton (D-6th) joined Salem Mayor Kimberley Driscoll, MassDevelopment CEO Dan Rivera, State Representative Paul Tucker and partners, funders and residents to celebrate the groundbreaking of renovation at Salem Heights Apartments, a 281-unit affordable housing community owned by Preservation of Affordable Housing (POAH) since 2003. There are 528 residents at Salem Heights.
Salem Heights was built in the early 1970s as affordable housing under a HUD subsidized loan. POAH acquired the property in 2003 and is now undertaking substantial renovations to continue to improve the quality of life for residents. The property comprises two connected nine- and ten-story high-rise buildings containing a total of 95 one-bedroom and 186 two-bedroom apartments that are rented to low- and moderate-income seniors and families.  When POAH purchased the property in 2003, it was at great risk of being converted to market rate housing and the nonprofit stepped in to assure affordability for decades to come. POAH completed a modest rehab of around $11,000 per unit in 2003.
"Expanding affordable housing is critical to tackle homelessness, promote economic growth and empower our communities," said Congressman Moulton. "Thanks to POAH's leadership, we're making this happen. I'm excited to celebrate this important milestone for the City of Salem, and I look forward to continuing the work to build sustainable and equitable housing."
In 2021, POAH applied for and received an allocation of Low-Income Housing Tax Credits (LIHTC) from the Massachusetts Department of Housing and Community Development (DHCD) and approval for an issuance of tax-exempt bonds from Massachusetts Development Finance Agency (MassDevelopment) in order to re-syndicate the property and finance a major rehabilitation. POAH's $40 million renovations will replace the building envelope; upgrade apartment and common areas; add new ventilation/ filtration and cooling units in every apartment; convert 15 apartments to ADA-compliant units; expand the community space and exterior landscaping; and add a playground for the 150 children who live at Salem Heights.
"Thanks to POAH's earlier efforts to secure the long-term affordability of Salem Heights, and their plans now to undertake substantial renovations that will preserve and improve quality of life at the facility, hundreds of families will continue to have a safe, affordable, and welcoming place to call home," said MassDevelopment President and CEO Dan Rivera. "MassDevelopment was proud to deliver a $55 million tax-exempt bond to fund these renovations, and we will continue to be a resource for building and preserving affordable housing in the communities that need it most."
In addition to the support from MassDevelopment and DHCD, Rockland Trust, in coordination with other local banks, Eastern Bank and East Boston Savings Bank, is providing the construction financing and through Boston Financial Investment Management (BFIM), is contributing equity to the BFIM fund buying the low-income tax credits along with People's Bank. Massachusetts Housing Partnership (MHP) is the permanent lender, using a Fannie Mae loan product. The property also benefits from subordinate loans provided by the Department of Housing and Community Development and POAH along with a real estate tax agreement from the City of Salem.
"We're proud that Salem is a city that welcomes all who want to call it home, and POAH is an essential partner in that vision, said Salem Mayor Kimberley Driscoll. "This investment at Salem Heights will further our shared goal of a suitable and safe roof over all our residents' heads."
"Through the wide array of support from so many partners including the state of Massachusetts, housing agencies, funding partners and the City of Salem, Salem Heights has been and will remain a crucial source of affordable housing in the city for the 500+ residents who call this community home, said POAH President and CEO Aaron Gornstein.
Watch the groundbreaking video here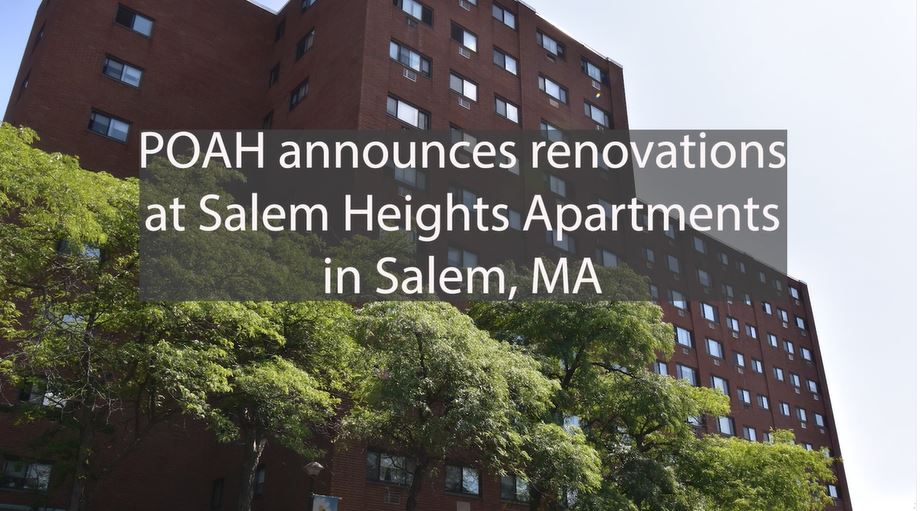 Click the image below to see more photos from the event