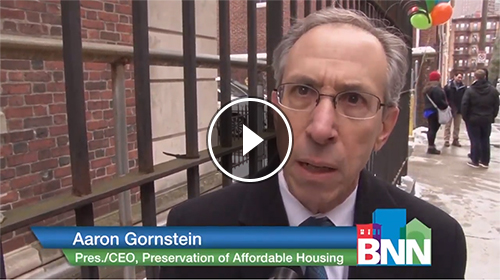 POAH CEO Aaron Gornstein talks about the importance of Community Preservation Act funding for affordable housing in Boston.
Mayor Martin J. Walsh and the City's Community Preservation Committee (CPC) this week recommended 56 projects, totaling more than $34 million, for inclusion in the fall funding round for the Community Preservation Act (CPA). The CPC held a public meeting on Monday, February 11, 2019, to vote on the Mayor's recommended slate of projects for funding. The projects will be submitted to the Boston City Council for approval with an anticipated vote from the Council in March.
"I am proud to recommend these proposals for funding approval, which will support our community in countless ways," said Mayor Walsh. "Since residents voted to adopt the Community Preservation Act two years ago, we have awarded CPA funding for projects in every neighborhood. We look forward to continuing to use this revenue to build on our work related to affordable housing, historic preservation and open space."
One of the projects recommended for funding is POAH's redevelopment of Bartlett Station Lot D in Roxbury.
$1,750,000 to Bartlett Station Lot D for construction of 52 units of housing, including 42 units restricted to Bostonians over the age of 55 who earn at or below 80% of AMI, or $69,000 for a two person household. This development also includes five units of housing for formerly homeless Bostonians. Lot D is part of the Bartlett Station redevelopment of the former MBTA bus yard in Dudley Square, and is being built on City-controlled land.