Veronica Martinez is a resident at Hillside Village Apartments in Providence, RI and a participant in the FSS program. She says FSS helped her regain confidence and get back on track.
For too many low-income families, an unexpected emergency – a car that won't start, an unexpected hospital bill, or losing a job – can be the difference between stability and instability. When families are able to build savings and assets, they have the opportunity not only to stabilize their lives, but to get ahead. The Family Self-Sufficiency (FSS) program is designed to enable low-income families to invest in their children, their career and their future through asset development.
As families with rental assistance work more and earn more money, normally their share of the rent increases; but the FSS program allows them to capture their increased rent payment in a savings account, held in escrow by POAH. The program essentially converts increased monthly rent payments into a monthly savings deposit.
Financial Coaching and Support
While the FSS escrow is a crucial incentive, it must be paired with effective, sustained support for these households to be successful in overcoming the challenges they often face. FSS participants work one-on-one with trained coordinators who assess their needs, work with them to define near- and long-term financial goals, help them connect to the community resources they need (training, childcare, and transportation, for example), and work with them to stay on track.
POAH has implemented its FSS program in partnership with Compass Working Capital, which pioneered the first public-private partnership model for FSS in the public housing sector. At POAH's FSS sites, Compass's highly trained financial coaches provide financial education workshops, one-on-one coaching, and ongoing support to participant households. At Hawthorne Place Apartments, we work with Community Services League, another partner in the Compass Working Capital National FSS Network.
Outcomes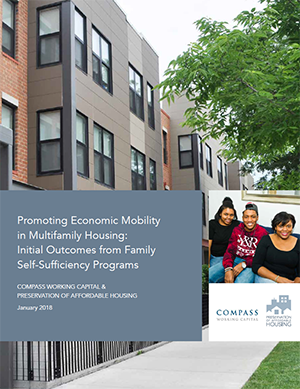 Click here for the 2018 report from POAH and Compass Working Capital
POAH has launched FSS programs at seven sites since early 2016, and already 243 households have enrolled, with a 30 percent enrollment rate at the five FSS sites we launched in 2016 (FSS enrollment has typically been 5% or less in the public housing and voucher programs). At one property, 65 percent of eligible households are engaged and working toward earnings and savings goals; already 51 percent of enrollees have increased their incomes and are escrowing savings, with an average balance of $3,652.
Just 18 months into the program (normally a five-year process for participants), nine participants have graduated by reaching their self-sufficiency goals and ending receipt of welfare assistance. Five have moved on from our properties (one bought a home) freeing up affordable units for the next families who need them.
More Resources
2020: FSS Report
Family Self-Sufficiency at Hawthorne Place Apartments: Progress Report 
2018 Fact Sheet: The Family Self-Sufficiency Program
POAH and Compass report: Promoting Economic Mobility in Multifamily Housing: Initial Outcomes from Family Self-Sufficiency Programs
POAH testimony:POAH President and CEO Aaron Gornstein testifies on FSS at Financial Services Committee hearing
Compass and Abt Associates study: Evaluation of the Compass Family Self-Sufficiency (FSS) Programs
POAH press release: POAH applauds Senate sponsors of Family Self-Sufficiency Act